How to Propagate Coral & Coral Frags :
How to grow coral basics ...
How to Propagate Coral Frags at Home ?
As reef aquariums gain popularity, the amount of knowledge regarding the husbandry of corals steadily increases, developing better and more successful techniques. However, understanding and replicating conditions that induce coral spawning is still an elusive aspect of coral care. It is still uncommon for corals to spawn in the home reef aquarium. Luckily, corals employ more than one reproductive strategy to propagate. Though sexual reproduction is yet uncommon, asexual reproduction is extremely common in a well-maintained reef aquarium.
By taking advantage of this unique characteristic, with patience, dedicated reef hobbyists are able to essentially fill an aquarium with just a few parent corals. Coral propagation is a cost effective way to have more corals, but more importantly, it helps alleviate the demand placed on corals harvested from the ocean.
In the ocean, the detachment of the newly formed coral buds is often caused by strong water currents, physical trauma, or biological triggers. The exact length of time varies from species to species, but the bud, or offshoot, eventually detaches from the parent coral and settles in a new location.
Human Intervention :
The division and separation of buds occur naturally in well-maintained reef aquariums. However, the process can be lengthy and rather unpredictable. The seasoned or dedicated hobbyist can take matters into his own hands and divide existing corals. Mushroom Corals and Colony polyps such as Xenia are among the easiest corals to propagate since the development and attachment site of each bud is clearly visible.
A clean cut is made to sever the bud from the parent coral utilizing a sharp pair of tissue scissors or bone cutters. It is crucial to incorporate a single motion rather than multiple snipping motions to ensure a clean cut for faster healing. Be sure to make the cut at the base of the coral bud where it attaches to the parent coral. If the distinction between parent and bud is not clear and you do not feel comfortable, wait until the bud matures and the distinction is clear. The severed bud can then be attached to a small piece of live rock. Use monofilament or nylon fishing line to gently, yet tightly, secure the coral to the live rock. Position the coral in an appropriate location with regard to lighting and water movement.
Provide and maintain ideal water conditions to ensure healthy growth. In due time, the new coral will mature and fill out nicely. As long as the corals are provided for, this process can be repeated indefinitely – resulting in a well-stocked reef aquarium from just a few parent corals.
Asexual reproduction – Reproduction that occurs without the exchange of sperm and eggs.
Budding – The formation of tissue extensions (offshoots) attached to the parent coral, developing into new, fully formed corals.
Clone – An organism that is produced with the identical genetic make-up as the original.
Fragmentation – The formation of new corals (usually the growing tips on hard corals) resulting from broken pieces of the parent coral.
Asexual Reproduction :
When proper environmental conditions are present (for example, appropriate water parameters, water movement, water temperature, lighting conditions, calcium level, etc.), corals thrive and multiply naturally in the home aquarium. The most common form of asexual reproduction exhibited by corals is "budding," where an offshoot is formed from the parent coral. During the budding process, a new coral (bud) is produced, usually at the growing edge of the parent coral. As the offshoot grows and the budding process continues, a small colony of new corals begins to develop and grow off of the parent coral.
Coral Propagation - Frags Tools and Supplies :
Bone Cutters :
coral cutter made with fine quality stainless steel. Designed for cutting very large thick branched corals. Also recommended for cutting frag plugs and small pieces of live rock. Heavy duty designing slices right through the toughest ceramic and aragonite based frag plugs. No wound spring to trap moister and rust like similar cutters. It's sharp cutting edges minimize crushing and damage to the coral tissue. A great tool for precisely cutting extremely hard corals.
Length 8 inches
Aquatic Tissue Scissors :
Use for propagation of soft corals or trimming aquatic plants. DR Instruments Aquatic Tissue Scissors get at difficult-to-reach areas without damaging tissue. Super-fine tips offer more control for clean precise cuts. Great scissors for propagating Toadstool Corals, Mushroom Corals, Leather Corals, and Zoanthid Corals. Quick and true cuts through soft coral tissue offer your new coral fragment the quickest healing time possible. Non-rusting stainless steel.
The Frag Station :
The frag station is a great way to permanently display your frags, grow frags or use as a perfect platform when acclimatising new corals.
Many hobbyists permanently mount a favorite coral right to the Frag Station. As the coral grows it encrusts the plug on its own. Once the plug has encrusted with coral you remove the plug and replace it with a new one. The coral will quickly grow over the new plug. This gives you constant coral propagation with minimal effort.
With the Frag Station you can have a mini coral farm in your display tank. This saves money over time. There is no need for an expensive frag tank and all the extra equipment and electricity that comes with it. It is also a much better alternative to egg crate. While egg crate has its place in our hobby and works well in frag tanks we feel it should never go into a display tank.
Frag Stations come in three sizes. Five, Ten and Twenty hole sizes. They are designed to sit flat on the bottom of your tank but can easily be mixed in with your rock work. They are made of the same material that we use to make our plugs and disks. While they do not need to cure understand that it is a clean surface. The station does go through a cycle. It is very porous and should aid in biological filtration over time. If you have an aquarium with lots of coralline growing the Frag Station will quickly become coralline encrusted as well. Plugs are included with the Frag Station.
Corals frags Plugs :
plugs work great for lps, sps, soft corals and polyps. The surface is rough to the touch and extremely porous. They will not crumble like concrete/aragonite plugs and do not require an additional six weeks of curing before you can use them. Super glue gels holds tight. - See more at:
The Donuts for corals frags :
THE DONUT RESEMBLES A PIECE OF RUBBLE ROCK IT HAS A HOLE IN THE MIDDLE. YOU CAN MOUNT JUST ABOUT ANY BRANCHING OR ENCRUSTING CORAL ON IT. SOME WILL HOLD A SINGLE PLUG OR DISK GREAT FOR ZOO GROW OUT.
- For More information and to purchase on - Line :
Frag plugs trays :
Either to be made from plastic or acrylic this tray used to hold all frags in the frag tank as shown in the pictures below :
MAGNETIC FRAG STATIONS :
Magnetic Frag Stations come in three sizes. Small, medium and large. Same features as our Frag Station but with a magnet added to them so they can be mounted to the side of the aquarium. These are sold by size and not hole count. Smalls will have four or more holes and in most cases will have room for additional coral frags not on plugs. Mediums will have up to ten holes and larges will have up to 20 holes. Sizes vary and no two are the same. Small and medium sizes are single shelved. Larges can be single or multi-shelved. They are solid ceramic and will not crumble or fall apart. It is very porous and in time will act similar to live rock. Frag Plugs are included.
The magnets used are of the highest quality and are very strong. They are specifically designed for aquarium used and rated up to 12mm glass or acrylic. Extreme care must be taken when handling and placing the magnetic frag station specifically by not allowing the magnets to snap together. This is best achieved by firmly holding the Magnetic Frag Station in position inside the tank, place the external magnet on the glass a short distance away and then carefully align the two halves.
The Magnetic Frag Station is sold by size, not hole count.
MAGNETIC REEF SHELF :
The Magnetic Reef Shelf comes in three sizes, small medium and large. Like the Magnetic Frag Station the Reef Shelf is sold by size however have no holes for plugs or discs. The Magnetic Reef Shelf allows for unique coral placement and tank aquascaping that would otherwise be difficult to achieve.
The Reef Shelf can be used to provide a stable platform for corals, shelter or shading for corals, a platform for Basic Discs to name a few. They are made from solid ceramic and will not crumble or fall apart. It is very porous and in time will act similar to live rock and aid in biological filtration. The Reef Shelf looks like rock and feels like rock and once encrusted with coral or coralline algae can be difficult to identify amongst natural live rock.
The Reef Shelf is available in Small, Medium and Large
Frag Tanks :
For majority of reefers, a frag tank is a great addition to any display tank. As the name implies, " Fragments" or pieces of corals taken selectively from the main display tank are then propagated and placed in a holding frag tank. For those that have overgrown corals, or need to isolate certain injured corals for healing and growth, or for those who like to sell or trade their coral fragments, a frag tank is prerequisite. More so, a frag tank allows for a separate viewing corals without the unwanted natural frag plugs or rack holding systems that could clutter the aesthetics of the display tank. It can be run separately from the main display tank to be utilized as an extra insurance in case corals from the main tank crashes or plumb with the existing display tank for extra water volume.
Band Saw :
The Band Saw is the latest bandsaw from Gryphon Corporation, the company that invented the whole concept of cutting glass with a band saw over thirty years ago. The Gryphon Aquasaw Diamond Band saw's hallmarks are very fast cutting and the best reliability in the industry for cutting corals and coral frags.
This Corrosion Resistant AquaSaw is designed for use with salt water and is generally used to cut corals. It is based upon the regular C-40, but has improvements designed to reduce maintenance when the saw is used in a corrosive environment, such as with salt water. The XL version of this saw adds about two inches of height to the saw, enabling the cutting of larger pieces. It uses a 42" stainless steel blade.
Coral frags Glue :
Samples of Glue used to fix the frags into plugs is shown below :
1- Crystal Clear Aquatics Reef Glue Tube :
Is designed for soft coral and stony coral fragging. For best results apply a small amount of Reef Glue Gel to coral frag, only enough to cover exposed skeleton, Avoid covering live coral tissue. Press to mounting fixture and hold until glue begins to cure. Can be applied under water.
2- Crystal Clear Aquatics Reef Epoxy :
Crystal Clear Aquatics Reef Epoxy is specially designed to secure rock work, coral colonies or other Epoxy will cure both in or out of water to a pink/purple color that closely resembles coralline algae. Reef Epoxy will have no affect on your protein skim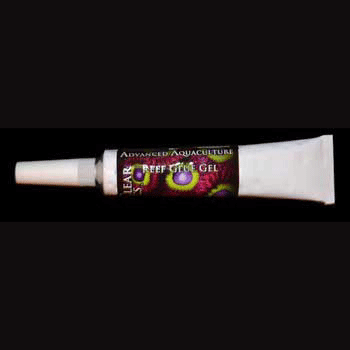 3-Crystal Clear Aquatics Super Thick Reef Glue :
Crystal Clear Aquatics Super Thick Cyanoacrylate Glue coralline colored to mimic the color of your natural rock. It is used to afix coral frags to reef plugs or discs. This glue can be used to facilitate the growth of your aquarium.
4- Crystal Clear Aquatics Colored Reef Glue
Crystal Clear Aquatics Super Thick Cyanoacrylate Glue coralline colored to mimic the color of your natural rock. It is used to afix coral frags to reef plugs or discs. This glue can be used to facilitate the growth of your aquarium.
5- Tunze Coral Fix Gum :
Tunze Coral Fix 112g Epoxy resin based adhesive for safe attachment of coral offshoots on stone substrates. Dyed red, similar to calcareous algae, suitable especially for coral reef aquariusm. It is also suitable for attaching glass, ceramic, wood and many plastics. Contents: 112 g.
Step By Step Guide for Coral Fragging :
Videos about How to Frag ?
For more about fragging supplies please check :
In general, the easier a coral is to keep, the easier it will be to reproduce. Mushrooms are starter coral a hobbyist can fairly easily get frags from. For Zooanthids, Pulsing Xenia, and other corals that tend to spread over the substrate, encouraging them to spread onto a new piece of substrate will create frags. Stony corals require cutting the growing tips or cutting the coral itself into smaller pieces and then mounting them to a substrate. Use the links below for sourcing instructions on propagating your corals!
courtesy to : www.fraging 101 . com Please click on the names below to guide to the external link on fragging 101 website
-Fragging Mushroom Coralss :
-Fragging Ricordea Corals :
-Fragging Zoanthid Corals
Reference Books
Book of Coral Propagation – Volume 1 Edition 2 by Anthony Calfo

Aquarium Corals by Eric Borneman
HOW TO FRAG ROSE BUBBLE TIP ANEMONES SALTWATER TANK CORAL REEF UPDATE
How To Easily Frag Acan Coral!!!
How To Frag SPS Acropora​
HOW TO: Frag!!! Coral Propagation
Basic Cutting Method :
Materials Needed :
The mushroom or ricordea corals to be propagated

Scissors or comparable cutting tool

Small plastic container

Live Rock Rubble

Mesh from a bag of oranges

Rubberbands
The tools that I use to propagate mushroom corals include clean, sharp scissors, a small plastic container, a piece of the mesh bag that oranges are commonly packaged in, rubberbands, the mushrooms or ricordea polyps to be propagated, and some live rock rubble or shells. Various materials will work in place of the mesh including bridal veil and garden netting found at the hardware store.
First start by cutting the head of the mushroom from the stalk which will detach it from the live rock. The stalk left on the rock will grow back and form a new head. Then take your scissors and cut the mushroom down the center making sure to cut through the mouth. You can cut the mushroom into halves or quaters but I do not suggest that you cut it into more than four pieces. Try to get an equal part of the mushroom's mouth in each piece.
I cut these mushrooms in half.
Fill your plastic container with your live rock rubble or shells and try to form an even layer covering up as much of the bottom of the container as possible. Place the mushroom pieces that you just cut into the container. Next cut your mesh to size so that it overlaps the container by a few inches on each side. Use a few rubberbands to secure the mesh across the top of the plastic container.
Slowly place the plastic container back into your tank trying not to let the water rush in too quickly and disturb the mushroom pieces. It will take around one to two weeks for the mushrooms to heal and regrow a round head and another week after that to attach to the live rock rubble. Regularly added iodide supplements are beneficial to the mushrooms and will help the mushrooms grow larger heads.